Website System Fonts for Macs and PCs
Free Font HTML Guide
What are system fonts?
They are the operating system fonts used by Macs and PCs across a wide range of platforms and monitor display settings.
What does this mean to me if I want to design a website?
When you create a website, you should remember that the fonts which appear on your web pages are actually determined by the visiting browser. With this in mind, if a visitor to your website doesn't have the specified font in your web page, the browser will simply substitute its own default font.
What fonts should I use?
There isn't a definitive shortlist of universal system fonts, but the following list is considered pretty safe and is supplied and installed with most operating systems. This list might appear rather bland, but at least you know it's fairly safe and your web pages should appear to others the way you intended.
 1. Verdana
 2. Arial/Helvetica
  3. Times New Roman/Times 
 4. Georgia
 5. Courier/Courier New

How do we handle fonts at Quick on the Net?
System font selection is built-in to our site builder software. Indeed, we use font faces in such a way that if your website visitors haven't got the specified system font, we will try to find the closest font face and display it in the web browser instead.

Text in a web page...
In a website, the system font text is considered to be 'live' and it can wrap itself around objects and graphics to suit different screen resolutions and monitor sizes on Macs and PCs.
The text can be printed.
It can be picked up and indexed by search engine robots (also known as search engine spiders or crawlers).
The text is resizable and you can apply different colours and type effects to it using a cascading style sheet (also known as a CSS).

How do I use non-system fonts in my

own website?
The best way to feature your corporate typeface or special font face in your business website design is to create graphical headlines or typographical enhancements and splash them around your site. These graphical elements should be saved as GIF (or JPG) picture image files. In website design, they are converted to images, as far as your website visitors are concerned, it doesn't matter what font face you have used. Remember to apply 'alt text' to your graphical text, to make it accessible and ensure it is picked up by search engines.

Please click here for Free Firefox

Free Firefox 100% Completely Free Mozilla Firefox Download.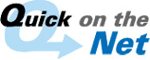 Free website design solutions for small business owners
Website design for small business owners from QuickontheNet.com
---
Free Font HTML Guide | Website System Fonts for Macs and PCs